Bridgnorth to Bewdley River Severn Canoe Trip
Duration: 5-6 hours
Start time: 08:45
Ages 7+ (see age restrictions)
Free minibus transport
14-mile canoe hire trip on the River Severn with time to stop off in Hampton Loade, Highley or Arley along the way. Enjoy some faster flowing areas and varied scenery as the river meanders alongside the path of the historic Severn Valley Railway steam trains. This experience lasts 5-6 hours.
£30
Per person
Book Now
Inclusive of VAT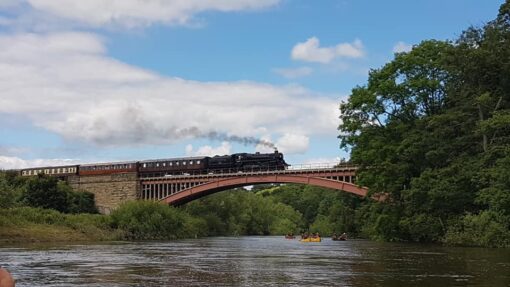 About this route
Enjoy some faster-flowing areas as the River Severn criss-crosses and runs alongside the historic Severn Valley steam railway.
You will pass the villages of Hampton Loade, Highley and Arley during your canoe trip and you are welcome to get out of your canoe for refreshments. The most convenient place to stop for a bite to eat or an ice cream is Arley Riverside Tearooms on the left side of the river in Arley.
Book Now
Who is it suitable for?
At low water levels this canoe hire route has some slightly more technical sections, meaning you must be confident you can steer a canoe and swim in moving water in the unlikely event of a capsize.
This trip is suitable for beginners but you must be a confident swimmer and listen carefully to the instructions during your safety brief!
Due to the nature of the River Severn on this section, we have set age restrictions, please scroll down to read these if you are wanting to go take children with you.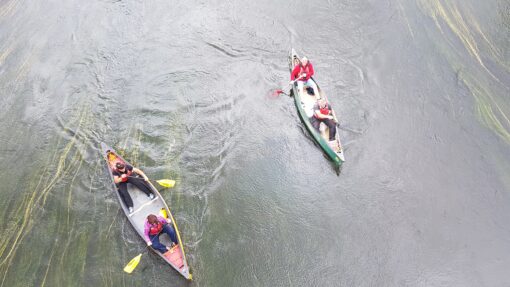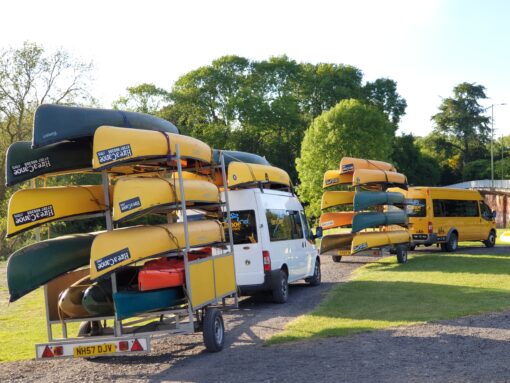 Free minibus transport
So if it's a one-way trip, how do I get back to my car?
We offer free transport from Bewdley to Bridgnorth at the start of your trip.
Everything is included in the price. Starting at just £25 per person, our Bridgnorth canoe hire trip is the best value you will find on the River Severn!
Bridgnorth to Bewdley - Book Now
What to expect
Meet us at our base at Bewdley Rowing Club — look for the big yellow minibus and trailer full of yellow canoes!
From there, we will drive you to the canoe launch point in Bridgnorth where you will be given kit, a safety brief and an introduction on how to paddle your canoe.
We will make sure you are feeling safe and comfortable in your canoe on the river and then you will be free to paddle the 14 miles downstream to Bewdley at your own pace.
You will be provided with paddles, buoyancy aids, waterproof barrel and a safety brief.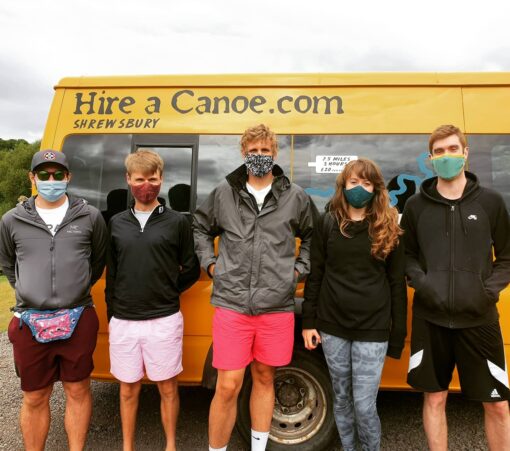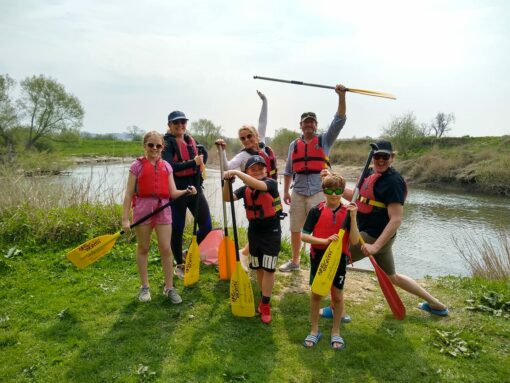 Bringing the kids?
Under-10s: the minimum age for this trip is 7 years old. To paddle this route with 7-10 year olds, you will need to be in a Rafted Canoe.
Under-13s: kids aged 10-13 will need to be accompanied by two adults and sit in the middle seat of a 3-seat canoe.
Ages 13+ can paddle at the front of a 2-seat canoe with a responsible adult.
Book Now
What is a Rafted Canoe?
A Rafted Canoe is where we secure two canoes together side-by-side to create a craft that cannot be capsized. This requires a minimum of two adults at the back of the boat to steer and propel the Rafted Canoe. In front of the two adults you can seat up to two young children (7+) and, in front of them, a further two teenagers or adults.
When booking, please select your choice of 2-seat or 3-seat canoes (at least two!) and then add the Rafted Canoe option.