Wild Campout with Jake the Storyteller
SPECIAL EVENT
📅 Sat 2nd‑Sun 3rd July 2022
🕐 Start time: 13:30 Saturday
🕚 Finish time: 12:00 Sunday
👪 Ages 7+ (see age restrictions)
Canoe to our wild campsite, pick up some locally reared Longhorn beef along the way and cook your meal over fire while listening to the enthralling tales of Jake the Storyteller. Play games, toast marshmallows and camp under the stars in a remote spot before paddling down to Shrewsbury the next morning.
£69
per person
Book Now
Inclusive of VAT. An additional 5% online booking fee is charged by our booking system provider.
Wild camping
It will come as no surprise that a Wild Campout involves some wild camping!
You will be staying at our designated wild campsite: a beautiful spot on the banks of the River Severn.
There is no running water at this site, so this means no flushing toilets, no drinking water taps and no showers! There are however a few facilities; keep reading for more details.
12 miles of canoeing
You will be covering approximately 7 miles on day one and 5 miles on day two.
This stretch of river is suitable for beginners and a full explanation of how to paddle and steer your canoe will be given at the start of the trip.
If you are feeling a little more adventurous, you can do this trip in one of our single kayaks. These require a little more skill to paddle but we tend to find beginners get the hang of it fairly quickly!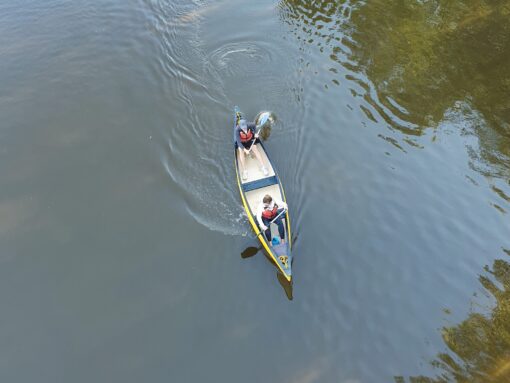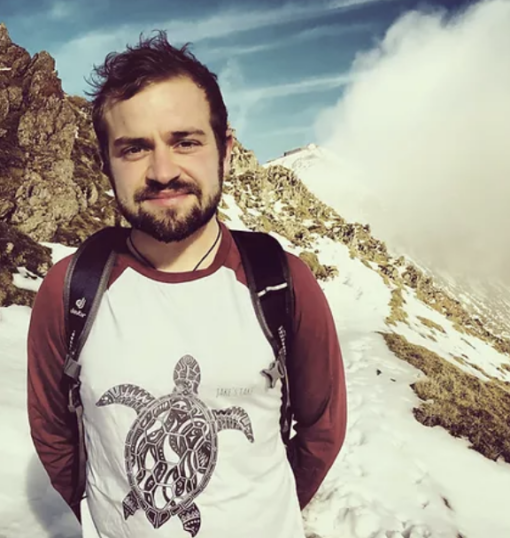 Jake the Storyteller
Your storytelling host for this special event is Shropshire's own Jake Evans.
Jake is a professional storyteller and has been enthralling audiences with his tales in venues around the county—and even all over the world!
You can expect tales of local legends and folklore delivered in an audience-appropriate style.
This event is open to all ages and stories will be tailored to suit the group, with maybe even a few ghost stories around the camp fire once any little ones have been put to bed!
A little more about Jake...
"I draw upon the world's deep well of mythologies, legends and traditional folk tales handed down by countless generations.
I recount true historical events, including epic feats of endurance and survival.
My own personal experiences occasionally make an appearance!
And there is sometimes the need to make stories up on the hoof, which, with a little audience help, can be my most badass yarns of them all…"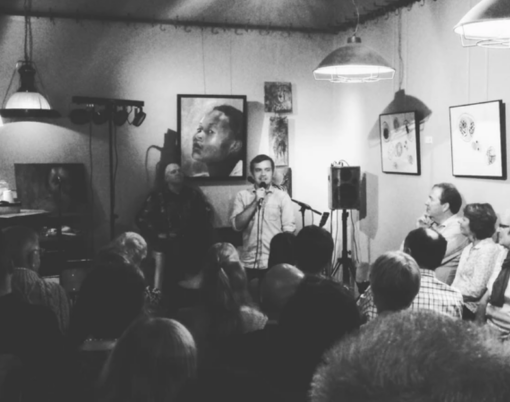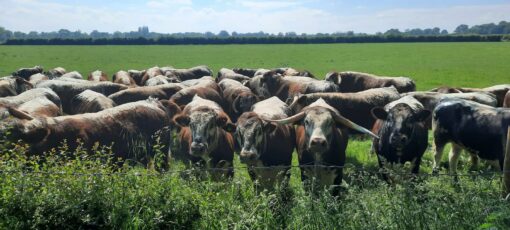 Locally reared beef
Just before you reach camp, you can stop off and collect some wonderfully local produce from Berwick Organics.
Pre-order Longhorn beef BBQ packs (£6 – £18 each) and breakfast packs (£6-£12 each) with everything you need to rustle yourself up a hearty breakfast the next morning!
What to expect
Assemble in Montford Bridge. Pack all equipment into barrels and dry bags.
Issuing of buoyancy aids and paddles, briefing on how to paddle your chosen craft.
Storytelling of the legend of Montford Bridge and the infamous highwayman Humphrey Kynaston.
Start of 7-mile canoe journey.
Stop off at Berwick Organics to collect pre-ordered food.
Arrive at camp and set up tents.
Time to relax and play wooden lawn games: giant "Jenga" and quoits/ring toss.
Cooking dinner over fire.
Marshmallow toasting (we will provide the marshmallows).
Storytelling around the campfire.
Next morning: time to cook breakfast and pack down camp.
5 miles paddling to Shrewsbury.
Return transport to Montford Bridge to collect cars.
Book Now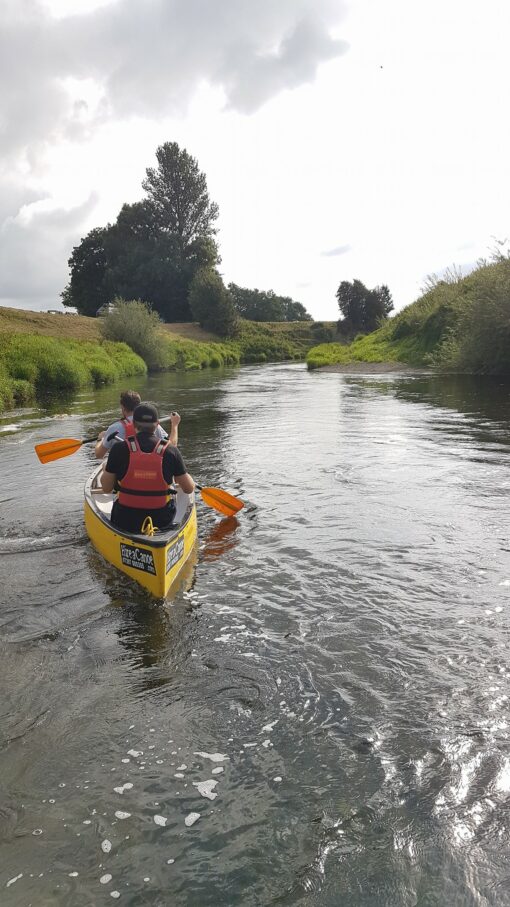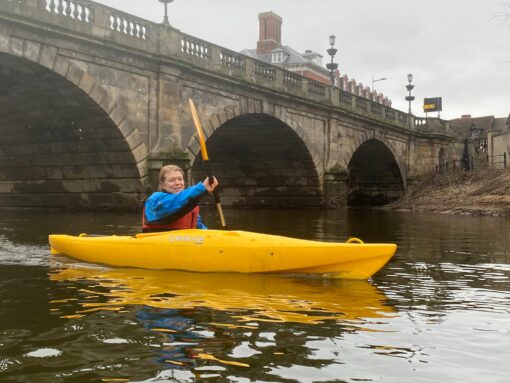 Suitable for solo paddlers!
Great news! As you will be staying together as a group, this trip is open to people who would like to come on their own!
This isn't usually possible on our trips, as we normally need to ensure there are at least two people per booking for safety reasons.
If you need a bit more space for your camping gear, don't worry! We can drop it off at the site for you.
What's included
Parking & transport
Canoe/kayak & paddle(s)
Buoyancy aid
Dry bag(s), barrel(s)
Launch fee & camping fee
*If you are coming by car, you can leave your car parked in Montford Bridge and we will drop you back there at the end. If you are coming by public transport, we can pick you up in Shrewsbury before the start of the trip (in which case, please let us know, by default we will assume you are meeting us in Montford Bridge).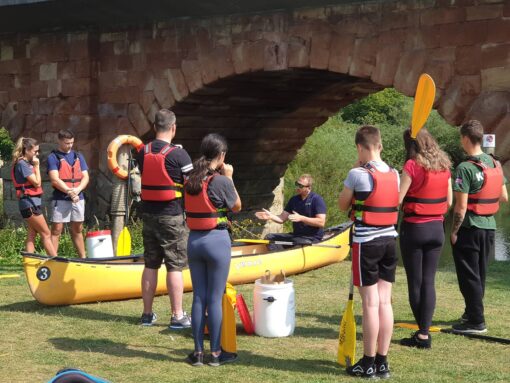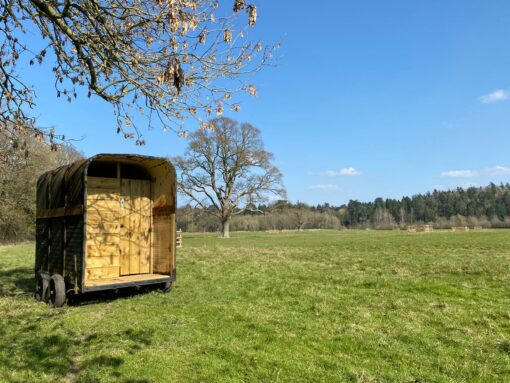 At camp
Although this is wild camping, there will be a few basic comforts at camp:
Toilet trailer with long-drop toilet & toilet paper
Fire bowl with grill, can be used as a BBQ
Wooden shelter for storing kit or preparing food
Picnic bench
Seating around the fire
Firewood
What you need to bring
Most importantly, don't forget your camping gear!
Sleeping mats
Sleeping bags + pillows (if needed)
Food (if you are not pre-ordering from Berwick Organics)
Drinking water
Small stove (for hot breakfast/drinks)
Pans, plates, mugs, cutlery (as required)
Book Now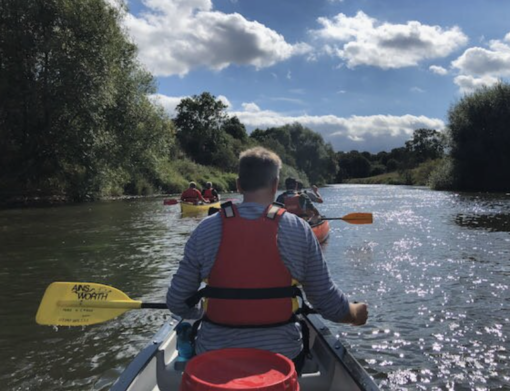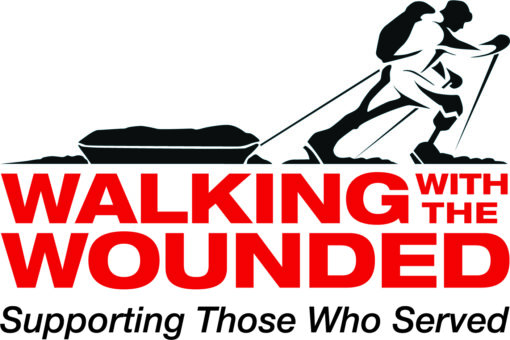 Charity donation
Instead of a camping fee, a charity donation is included and goes to this very worthy cause:
Walking With The Wounded 'WWTW' deliver employment, mental health, care coordination and volunteering programmes in collaboration with the NHS to get those who served, and their families, whether mentally, socially or physically wounded, back on their feet and making a positive contribution once more. Why? Because those who served, deserve.