Fun, safe & friendly canoe hire on the River Severn - check out our 5-star Tripadvisor, Facebook and Google reviews!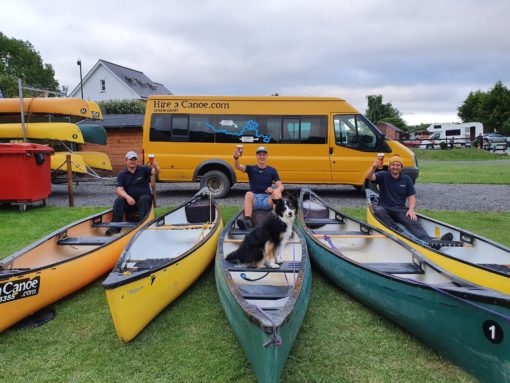 Who we are
Hire a Canoe first opened in 2015 on the River Wye in Herefordshire and we have since expanded to cover a large stretch of the UK's longest river, the River Severn.
Since 2017, we have been based in Montford Bridge near Shrewsbury in Shropshire.
In 2022 we gained a new location in The Quarry Park, Shrewsbury, and we are the only company permitted to offer turn-up-and-hire services in the town centre.
What we do
We offer canoe hire, kayak hire and SUP hire on the River Severn in Shropshire, from its upper reaches on the England-Wales border, through Shrewsbury.
You can hire a canoe, kayak or stand-up paddle board (SUP) from our Montford Bridge canoe hire centre or paddle one of our Canadian canoes and camp on our wild camping spot.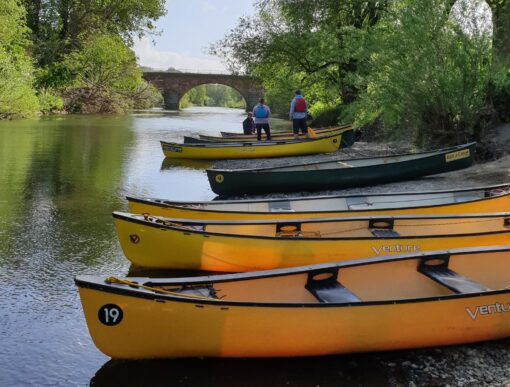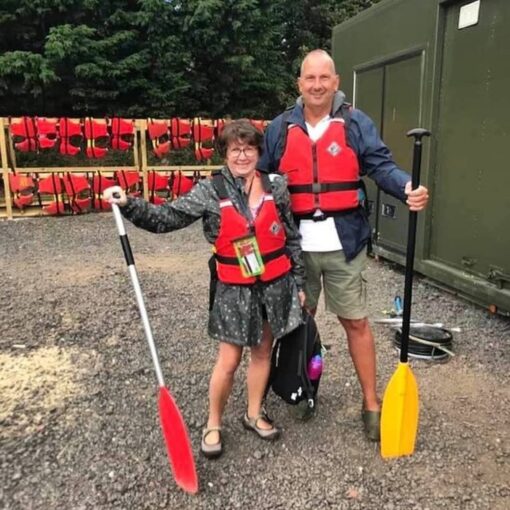 We care about what we do
Our fleet of Canadian style canoes, single kayaks, double kayaks and stand-up paddle boards are modern, safe, clean and well maintained.
Our buoyancy aids are kept clean, renewed and safety tested on a regular basis to ensure they are not just fit for purpose, but are also clean and comfy.
Our paddles come in a variety of sizes to ensure the maximum possible comfort for all adults and children.
We also provide waterproof barrels to ensure your valuables stay dry and protected.
Our customers
We can take group sizes from 2 people to 100 people!
With tailored instruction provided by our qualified staff before you set off, River Severn canoeing is suitable for beginners, couples, family days out, parties and corporate groups.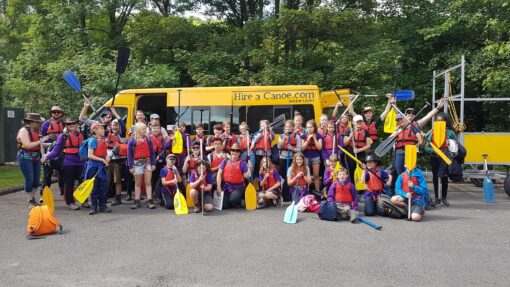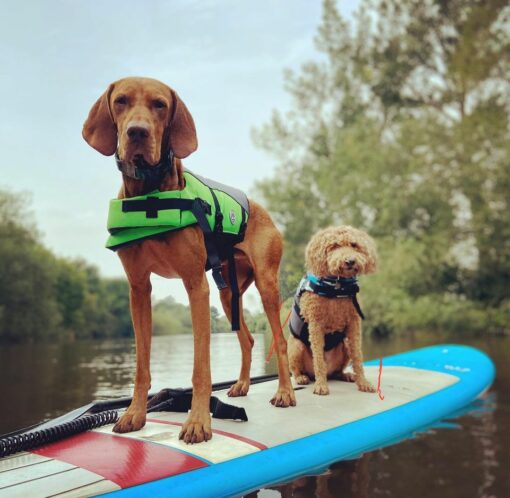 We love dogs!
Did we mention we love dogs?
Canoeing in Shropshire is a dog-friendly activity and dogs are welcome in our minibuses and in our canoes.
You might even get to meet our company dog, Katie the Border Collie at our canoe centres in Shrewsbury and Montford Bridge as sometimes we let her come to work with us!
Where to find us
Hire a Canoe Shrewsbury & Hire a Canoe Quarry Park are within easy travelling distance of Telford, Ironbridge, Oswestry, Welshpool, Ludlow and the Shropshire Hills.
If you are travelling by public transport, we would recommend coming to Shrewsbury as there are direct trains to the town centre from Manchester and Birmingham.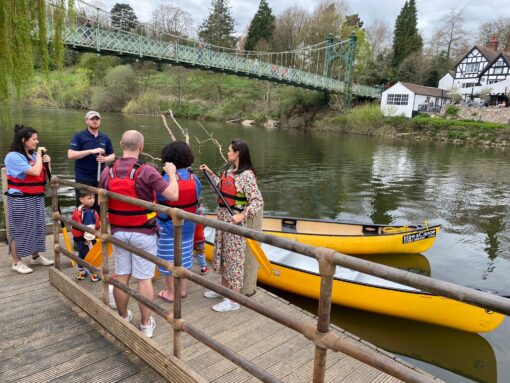 Hire a Canoe on the River Severn
Shropshire canoe hire in Shrewsbury and Montford Bridge. River Severn canoeing is ideal for families, friends, couples and corporate groups. Canoeing in Shropshire allows you to take in the varied landscapes of the Shropshire countryside from a different perspective. The Severn Valley meanders through the Welsh Marches in the shadow of the Shropshire Hills, through the Ironbridge Gorge before reaching Bridgnorth, where it continues past the Wyre Forest and heads to Worcester and beyond.
One of our popular Shropshire canoeing options includes Montford Bridge to Shrewsbury canoe hire.
Our equipment is available to hire along most of the navigable section of the River Severn from Llandrinio to Stourport.
Environmental Policy
At Hire a Canoe Ltd we are passionate about the environment and doing our best to reduce our impact. Whilst there are some aspects our our business we cannot currently change, such as the use of minibuses and plastic equipment, we try to do our bit where we can.
Litter picks of the River Severn
Free tea or coffee for anyone who brings their own cup (we will no longer provide paper or plastic cups)**
Free refills for reusable water bottles.**
Where possible we buy kayaks made from recycled plastics.
If you can think of any way we can improve our environmental policy then please get in touch!
**Only at Montford Bridge